How to Cut Metal With Your Oscillating Tool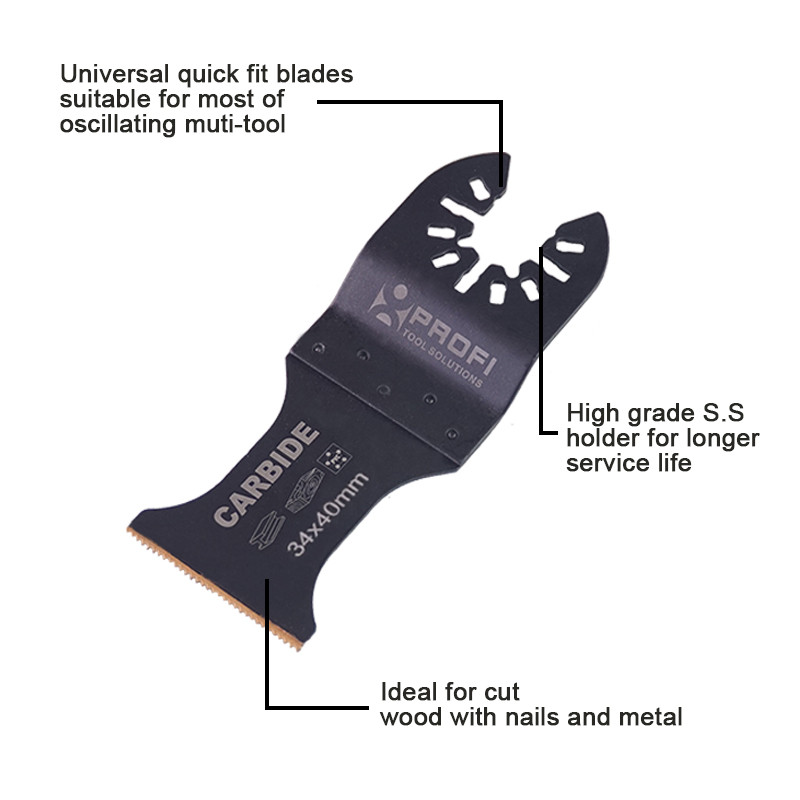 The Moretop Multi-Tool Carbide teeth Plunge Cut Blade is engineered for performance and precision.Ideal for cuttting cement, nails, screw and metals. Quick release shank is compatible with oscillating machines from Bosch, Fein, Rockwell,Ryobi and other professional power tools. Moretop Tools Blades are perfect accessories for your oscillating machine.
A high-quality oscillating tool can be good for a plethora of tasks. With the right blades for an oscillating tool, a DIYer or contractor can explore a wide range of potential uses.
If you need to cut metal, the collection of Moretop oscillating tool blades can provide great results. That said, you want to make sure to pair each job with the right metal cutting blades for oscillating tools. A standard oscillating saw blade that is designed for wood is not going to provide a good quality cut through metal, and will also burn out faster when used improperly.
The main difference between the standard wood cutting oscillating saw blades and the metal cutting blades for oscillating tools comes down to the teeth. With a bi-metal blade, the teeth have no offset. They are smaller and are hardened to stand up to tougher working conditions.
A bi-metal blade is going to work well for cutting wood and metal, making it ideal for situations where you have to cut through both. Beyond simply selecting a bi-metal blade for cutting through metal, you also want to think about the shape of the blade.
While there is a wide selection of Moretop oscillating tool blades, it's important to get the right blade for the job at hand. Choose a plunge cut blade for straight cuts, a semi-circular one for harder metals, and for best results let the oscillating tool do the work as you cut.
Plunge Cut Oscillating Saw Blades
The plunge cut design is one of the most common types of metal cutting blades for an oscillating tool. This type of oscillating saw blade can be good for times when you need to cut straight through something.
For example, you might need to cut through a rusted bolt or cut a piece of pipe straight through. The plunge cut blades for an oscillating tool have the teeth arranged in a straight row. That's why they are good for making plunge cuts.
Moretop's Universal Fit 1-1/8″ Bi-metal Plunge Cut Oscillating Blade is one such example of a plunge cut metal cutting blade for your oscillating tools that is ideal for cutting through non-ferrous and thin sheet metals. You can find additional blades in different widths, and some that are designed for deeper cuts.
Semi-Circular Oscillating Tool Metal Cutting Blades
With the semi-circular metal cutting blades for an oscillating tool, you have blades that are usually better for cutting into harder metals. The semi-circular design also makes them good for making long, linear cuts.
Just like with the straight plunge cut blades, semi-circular blades are available in different sizes. The Moretop Universal Fit 4″ Bi-metal Oscillating Semicircle Saw Blade is a 4-inch model that's excellent for plunge, linear, and flush cutting. Along with being useful for achieving long, straight cuts, semi-circular oscillating tool metal cutting blades are good for square cut terminations and work well around corners.
Tips for Cutting Metal With Your Oscillating Tool
With an oscillating power tool like the 20V Maxlithium Sonicrafter Oscillating Multi-tool, you can cut through metal with no problem. However, there are some tips that can help to ensure the best results while also getting the most from your Rockwell oscillating tool blades.
When cutting metal with oscillating saw blades, it is a good idea to start the tool off at a lower speed. Once you are comfortable with the material you are cutting, you can increase the speed and cut faster.
Additionally, you want to let the oscillating tool metal cutting blades do most of the work. If you apply too much pressure, it can wear the blade out. A good oscillating tool with a sharp metal cutting blade should be able to get the job done without the user having to apply a lot of force.